Google Free GPS vs. Garmin – few months later
November last year, Google announced that they will make turn-by-turn GPS free. Following that announcement the current players, Garmin and TomTom, crapped their pants as stocks fell rapidly.
– If you haven't already, read about that incident.
Today, half a year later, let's see how are things doing: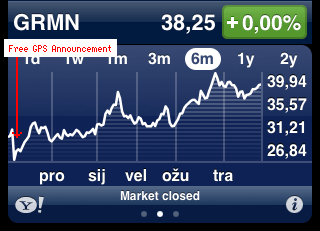 OH, WOULD YOU LOOK AT THAT?
After initial overreaction, the market understood that GSM/3G based navigation is not all that super great. If you bought Garmin stock at the moment they fell, now you are 50% richer.
You're welcome. =)