Google Free GPS vs. Garmin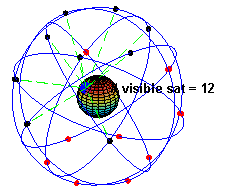 GPS satellites orbiting the Earth
Few days ago Google announced their free turn-by-turn GPS. The internet went crazy, especially the geeks. Getting out from the safety of your home, and all the comforts of the nearby kitchen, now that you have free turn-by-turn Google's GPS was never easier!
Following that news, Garmin's stock fell by 20%. Crazy!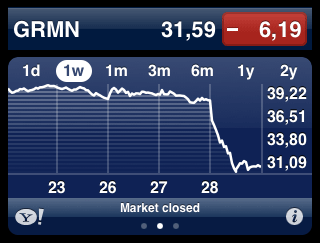 Wham, let the stock price hit the floor
No, what's crazy is how the market reacts without thinking. The stock price is based on a lot of factors, but in this case the major factor is people's willingness to continue to buy Garmin's products when Google gives similar product for free (well, similar effect). And this just proves how people in general, en masse, are not very smart.
What you need to know is that Google's GPS relies on your connection to the internet in order to download maps and data. On the hardware side, yea, the software will use your device's GPS antenna and GPS constellation to detect it's location, but that location is meaningless until you see it on a map. And that data will come down via internet. On the other side is Garmin, who has maps stored inside the device, and Garmin does not rely on the internet. All the data is physically stored inside the device. This has it's drawbacks, main one being that you need to actually buy detailed maps in order to load them into device.
But think about this for a second. Better yet, check this map: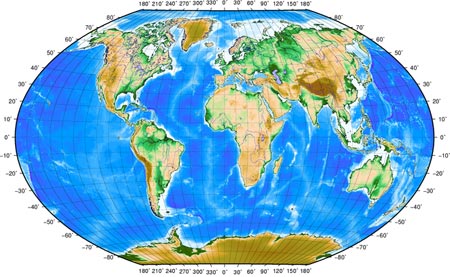 The areas marked blue on this map, so called – sea, is where there is no mobile internet coverage. I will save you the Wiki, that's 70.8%. Basically, you can forget Google's GPS there.
Then, let's get real for a moment here, and admit to ourselves: the availability of sufficiently fast mobile internet is limited to the city areas. Even inside cities (at least here in Zagreb) the 3G coverage is so-so. Even if "ordinary" mobile internet speed was sufficient to use Google's free GPS, that speed will only be sufficient to download data at walking speeds. If you are driving in your car on the highway, the combination of your speed plus lack of real broadband will lead to serious problems. Google's software will say "TURN LEFT NOW" and you will already be in the next city, not the one you wanted to go to.
And I do not see this changing in the nearby future. I just cannot imagine telecoms saying: "Yea, it is a great idea for us to invest millions of dollars in hardware just so you could have wireless broadband internet in the middle of the Amazonian forest."
Internet based GPS cannot be used in cars, cannot be used on ships and aeroplanes. It can hardly be used in the nature, trekking, biking, etc. It can be used while you walk from your door to the pub around the corner. This could be useful when you get drunk – it could probably yell at you and navigate you back home.