iPad – web designers worst nightmare came true
Apple introduced iPad. The world is in shock. In shock of how much it sucks. It does not cure cancer on command, and it fails to live up to the silly expectations people had.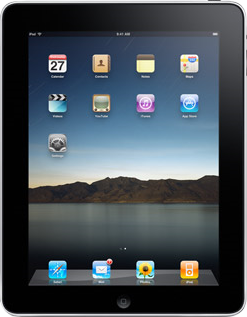 But, what people do, and that's wrong, is compare it to iPhone or Notebook. The iPad is none of that. It is new product targeted at specific market. That market is not you and me, since you are here reading this blog located on web developer company. iPad target are people who are casual users that use electronics and gadgets in a casual mode, focusing on one thing at a time – view little YouTube, read few pages of a book, check what's new on their favourite website, and just turn the damned thing off. iPad is an awesome thing if you were your father/mother. It's like an out-of-the-box computer that our parents can actually use!
Looking from that perspective, if you can downshift into this mindset – iPad is AWESOME. Of course, there are some things that it misses to make it supreme consumer toy (such as camera to take photos, true GPS) but remember iPhone – all that will come in second or third generation. Apple wants your cash too, they are not here just to make the world a better place.
For us, the powerusers that chill out from time to time, one thing is missing. This: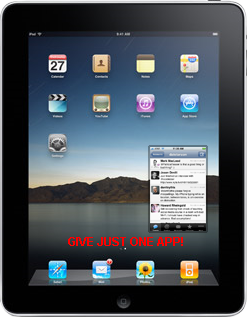 Give us ONE "window" to run native iPhone apps that floats above iPad. Just one. I do not ask for more. This way I could check Tweetie, or Things to-do list, or use the bloody calculator without the need to exit main app I am using. Just one!!!
But, I got some bad news with this as well, from the developers point of view.
iPad has a resolution of 1024×768. This resolution is here to stay, they will not increase it in second generation. The Apps developers will build in this year will fit this resolution, and as with iPhone, once Apps are massively developed for this resolution, it would just be bad to introduce bigger/different resolution.
And what that means for us, website developers? We are back to square one with our wishes for increased monitor resolutions. All of the developers were looking into Google Analytics for the past 3 years, and watching the 1024×768 resolution go down, as 1280 increased. We were just waiting for the point to start thinking bigger. And now, BAM on the head, we cannot any more. For the next 5 years, if iPad explodes into general population, all of our sites will have to be created to be optimized for 1024 resolution. Even if desktop monitors go to million by million, we will need to deploy our websites onto iPad.
Have a nice future, you silly web designers.