In the last couple of months there was a lot of talk about killing IE6 in multiple ways. Some high reach websites are talking about, and some of the biggest websites are directly telling people to switch to newer browser if they come with IE6.
However, even with all this pressure from developers and big websites, it is super-unlikely that IE6 will die until Microsoft decides that enough is enough and stops officially supporting IE6. This could mean that maybe they could force your Windows to silently download an upgraded Internet Explorer and just forcefully install it. Until that happens, IE6 will live on.
Apart from all the corporate mumbo-jumbo about big companies having hard time upgrading thousands of computers to newer IE, there is another huge reason why IE6 will not die:
We, the developers, continue to find ways to support IE6 in one way or another. Let's face it, a good web development company will always have an IE6 "version" of a site. That's it. And as long as we build sites that work on IE6, even in downgraded version, people will have no reason to upgrade.
You could say now "Well, but if they had upgraded browser, they would see a much more beautiful and functional website". But I say to that: you are a fool. We, the developers, know how the site looks under modern browser, and how it looks under old browser. A user coming in with IE6 only sees the downgraded version, but to that user THAT version is the only one. The user has no clue that there is a better version.
Facebook will warn you that you have IE6, but you can just ignore/close that warning block, and continue to use it.
If we as developers wanted TRULY to kill IE6 we should completely stop supporting it. Coming to a Facebook with IE6 should give you a blank window with warning and HUGE buttons do download Firefox/Chrome or upgrade IE. Until you do that – no Facebook for you. Same goes with Youtube, Twitter, and all the other hard hitters.
I know that this has issues of lowering the visitor count, but the big players should at least do this for a period of one week, or at least a couple of days.
Because, as it is now, users have absolutely no reason to upgrade from IE6. All the websites work good under it.
Also, we are doing our part too: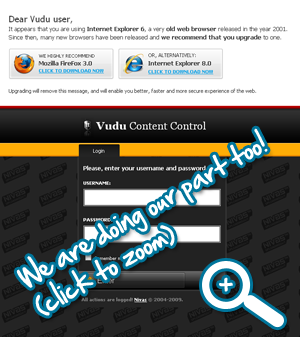 EDIT:
On the same day I wrote this post, John Nack (Adobe) wrote on his blog that Adobe will, starting from next Creative Suite, be INTEL ONLY on Mac (Intel and AMD on PC). Yes kids, that is right, Mac Power PC platforms and all of those older shit-systems are out. Just like that. Adobe will make no workarounds or hacks to get the software to work on old systems, even if that means the loss of few percent of general population.
And I respect and support that fully, and wish that more software and webdev companies started following the same principle – if it is old, just trash it into the can.
SUPREME EDIT TO THIS:
Web Burza, one of the great web development companies in the region (respect!) recently decided to drop IE6 support from their main development cycle. IE6 support will remain as a service they offer, but only as a side service (and you understand that this directly means that IE6 support will cost clients more). GO GO GO!