Ha! ArtLebedev made a mistake!
Russian crazy design studio that i have been stalking ummm.. following for years, Art Lebedev made concept on how to improve traffic light systems. Following their traditional naming system, the name is Luxofor, and on the first glance it is an improvement.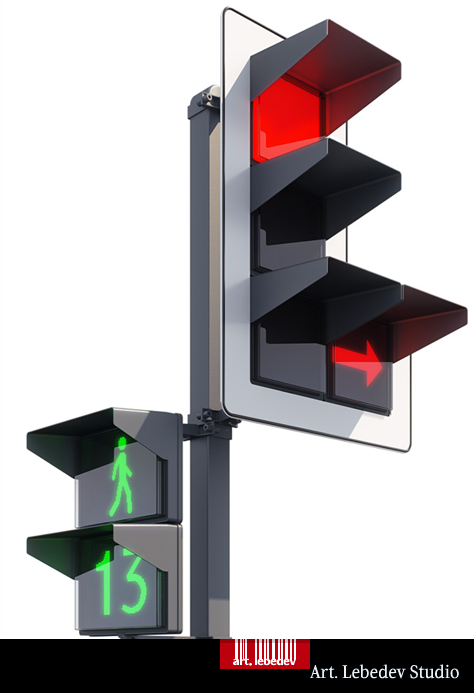 However, when you think about it, it is actually not an improvement.
You see, most of the surface will NEVER be lit anyways. The pedestrian crossing has human figure and numbers, and on most lights in my city, there are arrows – never solid color for directions. Even if the traffic directed is STRAIGHT the light is not solid block of color, it is an arrow pointing upward.
Basically what ArtLebedev made is a huge square and then small arrow in the middle. There is so much wasted space there. That is why circle is better, arrow covers same area, only requires much less material to display.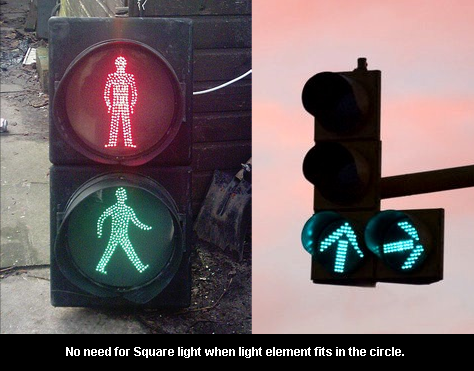 Making lights square just increases the materials needed to build them, makes them bigger targets for hailstorm, makes them heavier, and all that which comes with increased size.
Furthermore, ArtLebedev's proposition to have red light for right/left turns, is also not an improvement. Drivers understand that if NOTING is lit, then they cannot turn. When green lights up, they can go. Imagine if when you turned off your TV – the screen remained lit with big sign telling you "The TV is now OFF". It is just not necessary – simply because you can see that it is not working, you do not need additional proof telling you that it is not working.
Despite this, Art Lebedev is still my favorite product design studio.