Marry Christmas and happy New Year!
To all the visitors of our humble blog, we wish merry Christmas and happy New Year! Weeeeee, let the party begin!
Wait … what?
It's October dude, not even close to Christmas. In Croatia it is still sunny outside, people are pretending to be lizards as they soak up the sun sitting outside drinking coffee.
Well, Coca-Cola begs to differ, as they have rolled out some 7 days ago their Christmas packaging: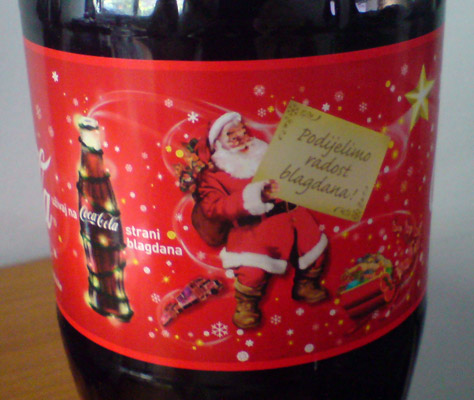 Every year it is the same consumerist crap. All the big companies are waiting for one of them to break innocence and start marketing their product with holiday spirit. For the last few years I was keeping track who will be the first one to break the moral boundary, and this year the award goes to Coca-Cola. Over two months before Christmas they shipped products reminding us that we need to spend more money during this period of time, because only by spending money you can send true messages of love, peace and friendship.
Coca-Cola popped the cherry of Christmas 2008, soon we can expect all the others to start shipping holiday decorated products.
Funny thing is that most of the companies keep the Christmas spirit alive well after Christmas, redesigning their product in February or March. Basically, Christmas spirit lasts for 5-6 months. Wanna bet that they can stretch it to 7?