This file came from another computer…. Well doh!
The other day I wanted to copy xhtml templates, images and javascript files from my colleagues computer (xp) to my own (xp) to make a new repository for a project we were working on.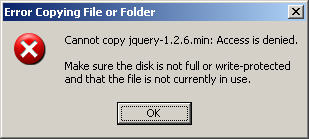 Nothing unusual here except the fact I was forbidden by his xp to copy any .js file with error similar to permissions problem. I walked to his computer and checked permissions and everything was ok with them. But, rightclicking one of .js files brought interesting message: "This file came from another computer and might be blocked to help protect this computer".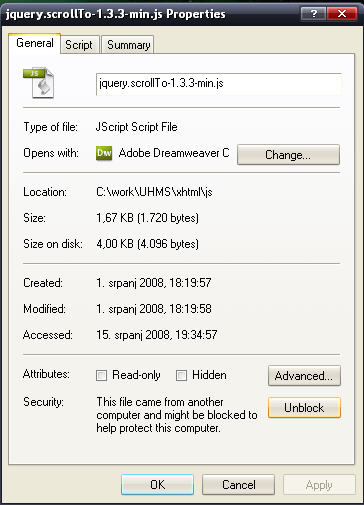 Right of the message you can see a big Unblock button, which actually doesn't do anything. After "unblocking" I was still unable to copy them. This situation occurs only if you have XP SP2+ and use IE to download files because IE tags the file with an additional "NTFS Stream" of information.
There are few possible hacks how to disable this annoyance slash security feature:
unblock the file, then copy it to FAT32 partition, and then move it back to NTFS.
Disable NTFS Streams with SysInternals Streams utility (mega haxor)
User Configuration > Administrative Templates > Windows Components > Attachment Manager. Enable: Do not preserve zone information in file attachments (only works for new files)
Just stop using IE! :)