How HRT failed in their intention to become Croatian BBC
This one goes to all our foreign readers which would otherwise probably be left out from knowing news of the week in Croatia – Croatian National Television (HRT.hr) bluntly copied British Broadcasting Corporation (BBC.co.uk) website!
The shit hit the fan few days ago and whole Croatian web community got pretty pissed off. HRT spokesman said (in defence to accusations of stealing BBC's design) that HRT wishes to be Croatian BBC, and ok – I absolutely respect that. I also respect their understanding for the need to redesign the site. The old HRT.hr website was 8-10 years old and not something to look at.
But lets get one thing straight – I totally and absolutely disrespect the method of execution of their intentions. Whoever did the production of this monstrosity lacks the proper knowledge and experience… 10 years of experience in web development field at least.
Client is always right, but clients are not web designers (no matter how bad they would want it to be), and our sole professional and moral obligation is to notify client of possible breach in copyright laws, breach in functionality or any kind of possible side-effect that some of their ideas could do to harm the project, harm them self or harm web developers reputation.
Not once, but every time, we ask client – which websites do they like, who are their competitors, who is their role model in business… And based on our previous experience, knowledge, research, strategic planning and comprehensive user tests – we produce results. Results which are specially suited for our client. Not fake copy of website they wish to have.
As our friend Maratz nicely wrote, and I couldn't agree with him more: "This is the embarrassment of the decade for the Croatian web community.".
Compare and cry ™: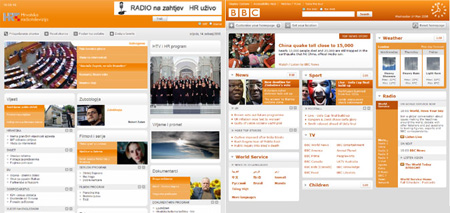 More voices:
Updated 20.05. – Big up to our comrades in arms at BBC. And thanks to Alan Connor (co-editor of BBC Internet Blog) who linked to my article, and hey I really don't know how I missed this beauty – http://www.rtl.hu/. It seems that BBC was true inspiration for many "web designers". But, RTL.hu is light AGES ahead of HRT.hr. Whoever did the job, they did it well. There is just a small we-copied-bbc-design fact… but hey. :)