Consulting
Our first task was to conduct a series of analysis covering Usability, Technical and SEO, giving a clear picture of the level of user experience in the online channels. The result was an all encompassing 70 page report that provided deep insight in to the problems pledging the website. To make sure the report has enough impact across the board, we conducted a series of debriefs and workshops on executive, managerial and operative level - across all key departments.
Understanding the scope of the challenge often requires outside the box thinking and a flexible approach. — CD Gjuro Korać
This was the case when we started do deconstruct the Mobily online experience. The specifics of the Saudi Arabia market, Arabic language, RTL all played a big role in understanding and optimising the user experiance.
The usability analysis followed our tried methodology of heuristic analysis, validated by user testing and a final report with clear recommendations.

Usability benchmarking for telecom companies in KSA maket
The impact of the findings set the direction and goals for the upcoming redesign and unified the companies view and expectations for this strategic project.
Development
Over 200 psd files, 250 templates + complete RTL optimisation integrated in Web Sphere 8. The task took over a year and meant working with teams across the Middle East, in different timezones, with different weekends (Non working days at KSA where Thursday and Friday, now moved to Friday and Saturday). To accommodate for the pace of the project and provide support to IBM teams implementing WebSphere we set up a 24/7 rotation that ensured we were available for any intervention.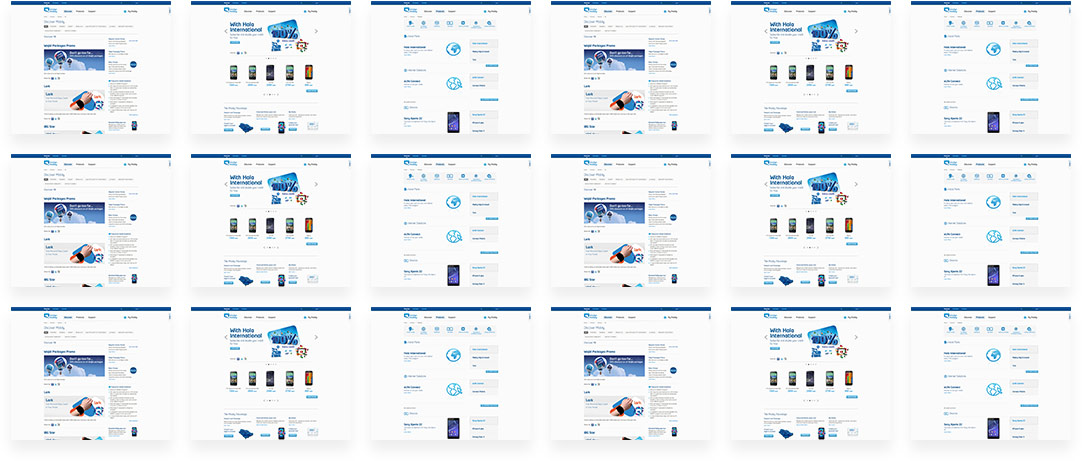 With carefully crafted HTML and CSS we were able to achieve that all RTL languages look consistent throughout the portal.
In retrospect
Many challenges were faced during the projects duration with some of the more difficult ones being javascript related. Because of the portal requirements we were forced to use Dojo 1.7 for all javascript enhanced functionalities, alibrary that plays well with Web Sphere but not a community favourite. This tested our javascript skills to the maximum as we needed to deliver dynamic charts and graphs, dynamic content sliders, dynamic forms and complex dynamic data-grids.
The result of our effort was an organisation paradigm shift promoted by e-marketing team led by Mr. Ali Al Khalil, and a redesigned online experience that repositions the brand as a technological leader in the region.