Last couple of weeks I kept hearing about upcoming MySpace.com redesign. Well, it came.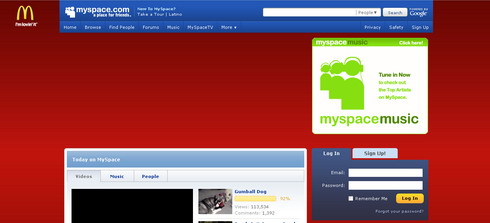 I don't know if it is only me or what, but can somebody explain to me why did they leave a hole in the center of the site? And how about ever present position: fixed; McDonald's banner? Nifty. "I am NOT lovin it". :)
I really never ever liked MySpace, quite opposite in fact. To me MySpace makes Geocities free hosted websites look good. :) So much trash in one place….at the same time! I can tolerate awful background images ppl can put into their profile, I can try to avoid epilepsy by ignoring blinking bling bling animated gifs, insane colors and tons and tons of flash slideshows… but mp3 player is where I draw a big fat line. Man, I can't stand hearing all that garbage ppl put in their playlists.
I wonder if makers of MySpace really did want to make a trash site, or things just got out of control by itself? This trash quality is really hard to achieve and I give them respect for that.