We make mistakes too – the "Ubrovnik" incident.
Dubrovnik is one of the most beautiful cities in the world. It is protected by UNESCO due to it's immense heritage, beautiful palaces, stone walls surrounding it, and all that kind of neat stuff that tourists love. Dubrovnik is the only city that was featured on CocaCola bottles – many tourism orientated cities tried that, only Dubrovnik was able to do it.
Enough with the history, it is confession time now. We made a huge mistake, on an otherwise awesome site for one of the Dubrovnik's hotels – Hotel Petka.
Classified case 012: The Ubrovnik incident.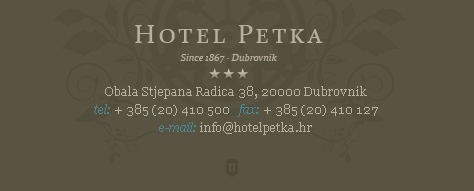 While designing the page, we had a cool idea to use image replacement for the first letter in the sentence on the homepage. It looks nice, and has that old school feeling.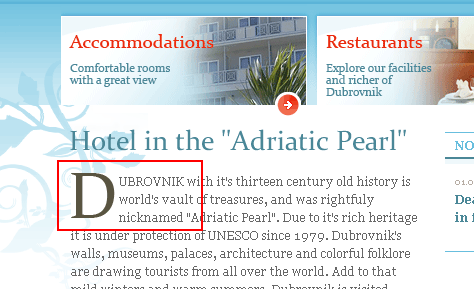 What we failed to realize is that markup for this was not done as it should have been done:

As you can see, letter D is missing from markup as it was visually replaced with image of letter D. This, of course, means nothing to Google, and the site was placed dramatically low on Google. Page 4 to be precise.



On a grand scale from 1 to FAIL, this ranks at about eleven.
Good thing is that if you Google for "hotel ubrovnik" you get Petka first. Not a big comfort, but still, eh …
In any case, we are fixing this and hoping that Google will reindex the site and give it it's deserved position.
UPDATE: less than 6 hours after i wrote this post, Google crawled us, and now this post is rated first, pushing Petka to second place if you search "hotel ubrovnik".